***PLEASE DELETE THESE INSTRUCTIONS BEFORE SENDING NEWSLETTERS . ADDITIONAL NOTES ARE INCLUDED BELOW***
HEY LUCKY, IT'S JIM.
AS YOU MIGHT HAVE HEARD THEY CUT THE GOH POSITION AT THE CAMP THIS YEAR. GOH IS SHORTHAND FOR 'GUEST OF HONOUR.' THEY SENT ME THE OFFICIAL STATEMENT A FEW MONTHS AGO… I HAVE FORWARDED YOU THAT COPY.
I'VE ALSO SENT YOU A LINK TO A FORM FOR CAMPERS TO LET US KNOW ABOUT EVENTS THEY WOULD LIKE TO RUN, OR WORKSHOPS THEY WOULD LIKE TO INSTRUCT! WE HAVE A NEW SYSTEM FOR KEEPING TRACK OF PROGRAMMING, SO PLEASE MAKE SURE THEY KNOW THAT EVEN IF THEY HAVE RUN SOMETHING IN THE PAST THAT WE STILL NEED THEM TO SUBMIT AN APPLICATION. OH, AND THE DEADLINE FOR APPLYING IS GOING TO BE JULY 1ST!
THE EVENTS/WORKSHOPS SHOULD BE THE FOCUS OF THE NEWSLETTER! SNEAK THE GOH STUFF IN. MAKE IT FINDABLE BUT DON'T DRAW ATTENTION TO IT, YA KNOW?
THAT SAID… I AM EXCITED TO SEE HOW YOU'RE GOING TO INTERPRET THIS MESSAGE.
LUCKY… UPPER MANAGEMENT EITHER LOVES YOU OR IS HAVING ONE TOO MANY OF THE CLO'S LIBATIONS. DON'T FORGET TO DELETE ALL THESE INSTRUCTI…
ACTUALLY, YOU KNOW WHAT? YOU DO YOU.
JIM
PS. YOU ARE FORGETTING TO DELETE, RIGHT? I MEAN… ARE YOU FORGETTING TO DELETE?
***PLEASE DELETE THESE INSTRUCTIONS BEFORE SENDING NEWSLETTERS. ADDITIONAL NOTES ARE INCLUDED BELOW***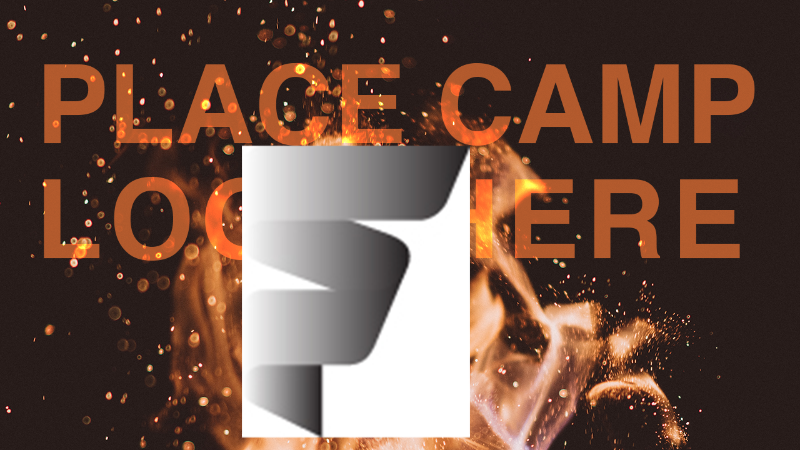 IF YOU WANT TO RUN A WORKSHOP OR EVENT AT CAMP FERAL! THIS YEAR, SIMPLY LET US KNOW THROUGH THIS FORM.
IF YOU HAVE RUN THIS WORKSHOP/EVENT FOR US IN THE PAST, WE ASK THAT YOU STILL APPLY THROUGH THE AFOREMENTIONED FORM.
YOU CAN REACH THE FORM BY CLICKING THE WORD FORM, OR BY CLICKING THE CONSPICUOUS BUTTON BELOW!
DEADLINE FOR SUBMITTING YOUR FORM IS JULY 1 2023
Prerequisites for running an event or workshop:
you have an idea for an event or workshop
you know what you're doing/talking about
you are comfortable talking in front of people, or are willing to give it a shot
your idea allows others to participate/includes relevant instructional activities and exercises
your idea does not primarily involve seeds or nuts, completing a fursuit in a weekend, or VR equipment
you will be at Camp Feral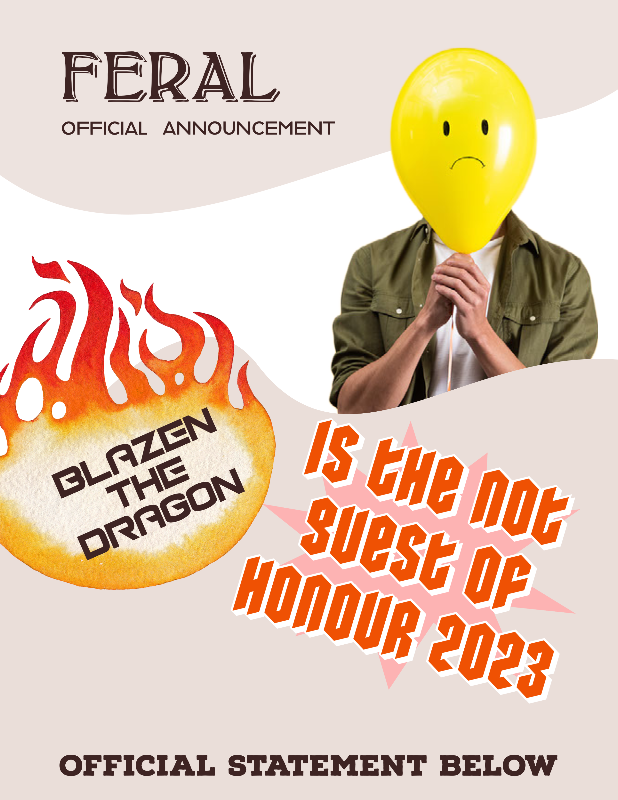 "Due to budget restraints, Upper Management has made the shrewd decision to liquidate the Guest of Honour position.
Unfortunately, due to conditions in their contract, we are required to keep Blazen employed until contract end (Aug 28 2023). As such, he will be transitioning into the position of "not-guest-of-honour" while retaining his regular duties as CLO (Chief Libations Officer)"
~ UPPER MANAGEMENT!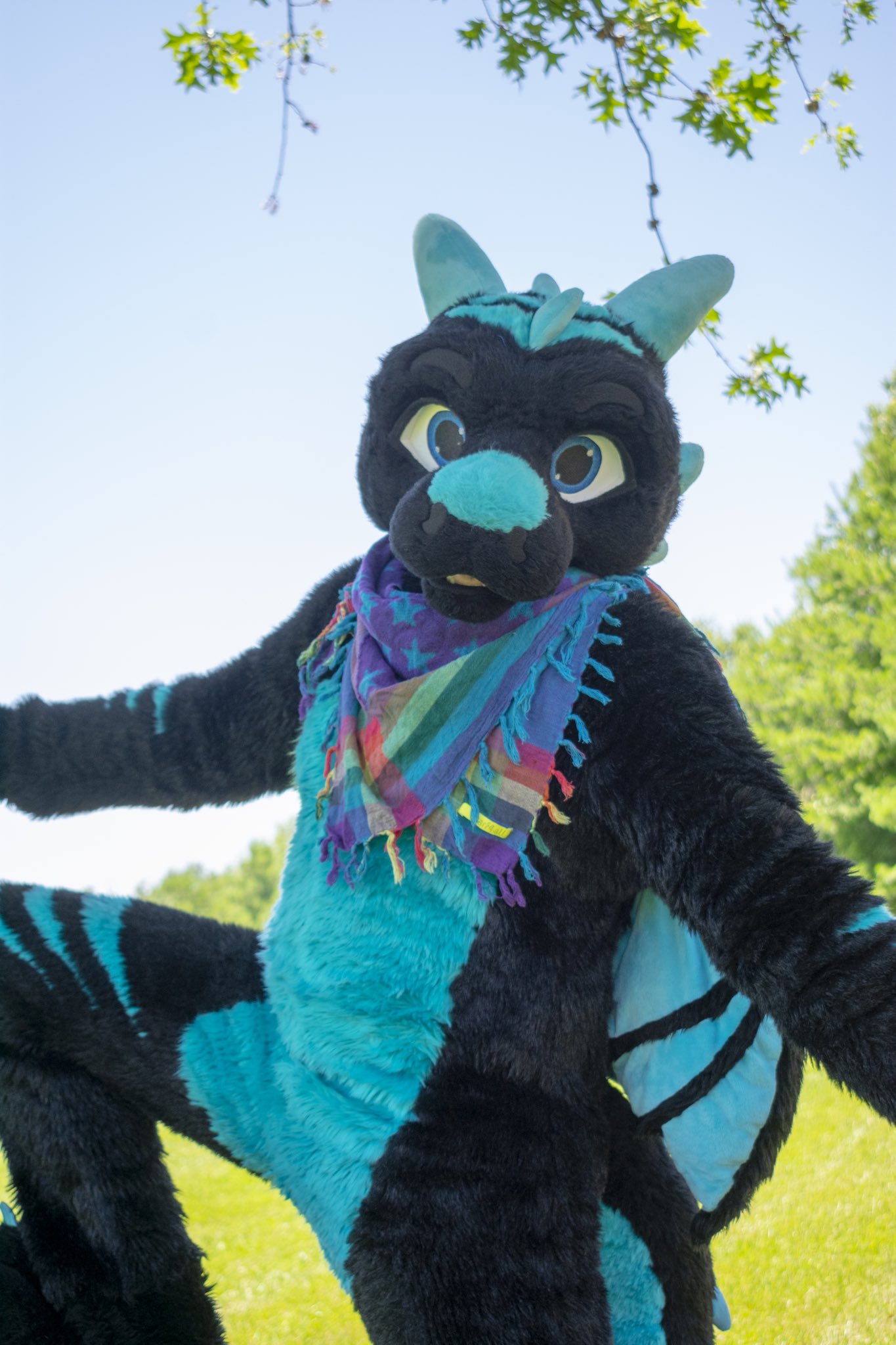 Chief Libations Officer for FERAL and for Camp Feral, but NOT the Guest of Honour in 2023, Blazen the Dragon. Presumably taken before Upper Management decided to end the Guest of Honour position, meaning Blazen is not "the Guest of Honour" but, instead, "not guest of honour." The distinction is important.