On the first day of camp, we offer the Camp Feral! bus to shuttle our campers and their luggage directly from Toronto to the door of Camp Feral! Checkin Hall in Algonquin Park.
You're bus ride is round trip. You're guaranteed a seat for the return trip after you're week of being out in nature! We want everyone to get back to their lives relaxed and stress free after all!
All you have to worry about is making your way to our bus pickup location! We'll take care of the rest!
The Pick-Up / Drop-Off Location
Herbert H.Carnegie Centennial Centre
Address

580 Finch Ave W
North York, ON
M2R 1N7

Northern Parking Lot,
behind the Ice Rink
Our pick-up / drop-off location this year is at the Herbert H. Carnegie Centennial Centre, which is a community Ice and Dry-Pad hockey rink in North York/Toronto. (Of course it's an Ice Rink! What could be more Canadian than a bus full of furs picked up from an Ice Rink to go to a summer camp in the northern wilderness??)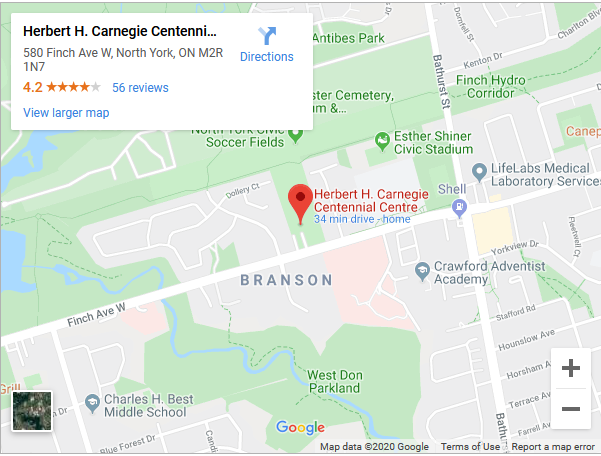 Come around to the northern parking lot, we'll be collecting there