Hello Campers!
In the absence of camp this year, Feral Staff is hosting a Camp Feral! 404 - Camp Not Found park day in Toronto at High Park on October 2nd from 1:30pm to 7:30pm! Come hang out with us and help make our space feel more like Feral!
We're keeping things super relaxed and simple and are asking you to help us make this event fun and special with BYOF!, Bring Your Own Feral! Bring things to the event that remind you of Feral or things that have maybe made Feral special for you in the past so you can share your stories with your friends at the event.
Registration?!
Registration is not required for this event, but donation "registrations" are available. Those who register will get an event badge made by Eevachu! If you would like to register for our Camp Feral! 404 - Camp Not Found event, please go to Feral's Smallest Registration Form Ever.
Programming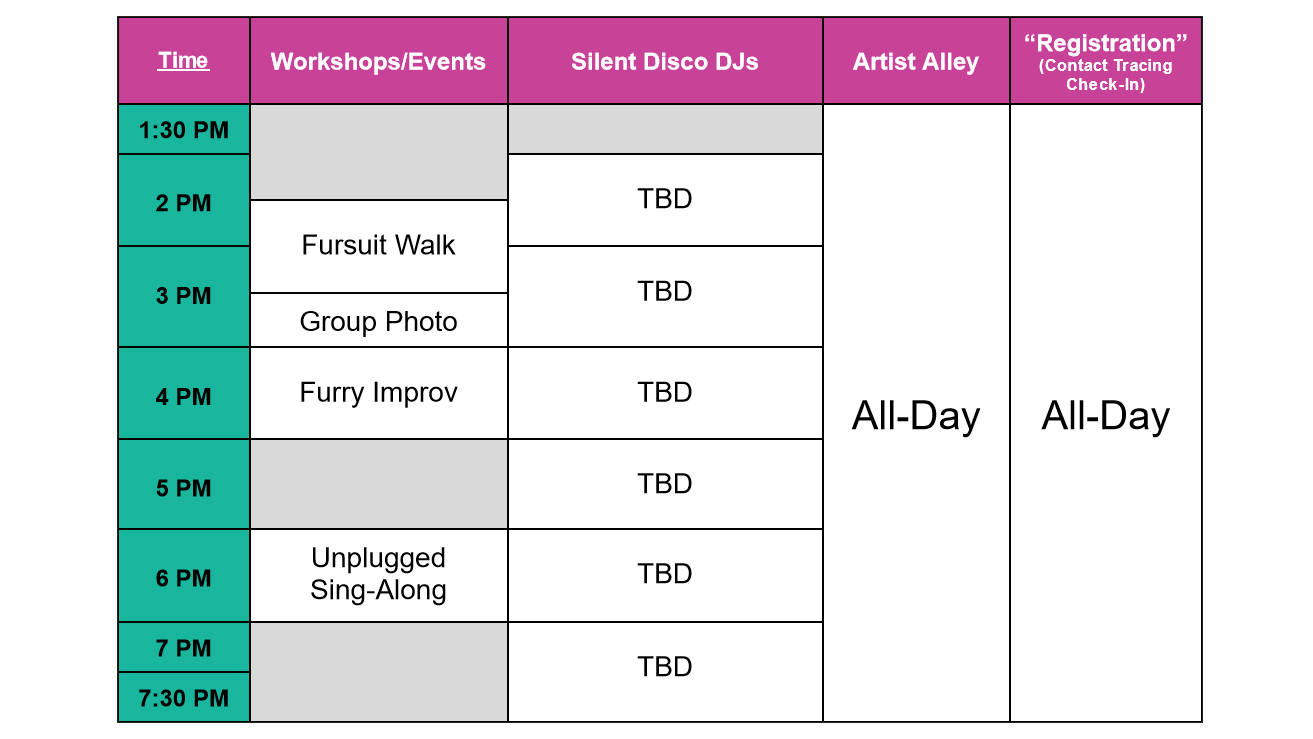 "Registration" (Contact Tracing Check-In)
Location: Covered Picnic Area Picnic Tables
Making government regulations FUN(ish)! Get asked all the standard covid-screening questions. If you pre-registered, come pick up your badge. If you didn't pre-register, come check in with us, we will need your name and contact info, before you can frolic amongst the "campers". Badges will be available on-site for $10, but quantities will be limited, and you may have to sharpie on your name, if the label maker runs out of batteries, so PLEASE PRE-REGISTER if you are planning to attend!
Artist Alley [All-Day]
Location: Covered Picnic Area Picnic Tables
Artists, fursuit makers, artisans and crafters: bring your wares to sell!
Everyone else: bring money and buy things!
While this is mainly focused on commission artists who've been without convention income for many moons, feel free to contact us to see if your type of "art" is appropriate for the alley.
Cost per half-table: FREE~! But a donation is encouraged, if you are able to!
Rules:
Displays must be no wider than one picnic table (about 6" x 2.5") and no taller than 28" (about two metal cube displays)

Do not tape/staple/hang any displays to any park property

Do not stake anything into the ground

Artists should bring a mask

Due to the public nature of this event, no NSFW/visibly suggestive material is allowed to be sold or drawn on site. This means you may not even have it censored and/or in closed binders and out of sight, but you may take NSFW "take-home" commissions

Although the event is outside, social distancing will be difficult to maintain during transactions
Check in with "Registration" to grab your spot. Contact info@campferal.org if you have any questions!
Art commissioners: please make sure all reference images provided on-site are SFW, due to the public nature of the event (if you need to send an NSFW reference, please do so off-site at a later time. Please wear a mask when in the artist alley area.
Silent Disco DJs [All-Day]
While we can't have amplified sound, so as not to disturb other park-goers, there's nothing stopping us from hosting our own silent disco! Download the app (https://mysilentdisco.club), grab your best headphones and get ready to wiggle in time with everyone, as pre-recorded sets from our DJs stream live. Requires a data-enabled device; unfortunately the park doesn't have a wi-fi password. Remember to charge up your phone and bring a battery pack and charging cord, just in case!
Fursuit Walk [2:30pm-3:30pm]
Fursuit Herder: Eevachu
Dust off your fursuits and remember to stretch: we're taking you for a good ol' fashioned fursuit walk around High Park! All levels of suiters and walkers welcome, this will be a nice meandering pace, but no shame leaving the walk early, if you get tuckered out. Weather permitting, we'll be taking you animals down to the zoo, to meet some less anthropomorphic animals than yourselves. This event will be in public, so be prepared to potentially mingle with other park-goers. We are unable to provide a headless lounge, so any changing will need to be done in the public washrooms.
Furry Improv [4pm-5pm]
Hosts: Dralen & Hiker
Feral!'s most popular event since 2004, now in tiny Toronto form for the first time! Come watch your fellow park "campers" improvise and make fools of themselves for your amusement. Join them as they act out ridiculous situations that you give them!
Event will go longer if there is sufficient demand.
Unplugged Sing-Along [6pm-7pm]
Host: Branwyn
Come sing along with some of your favourite songs (maybe some that remind you of camp) with your Feral! Friends! Feel free to bring along some unplugged instruments to jam out with, just no amplified instruments, please. Everyone is welcome to this camp tradition, whether to perform or just to listen in!
Event will go longer if there is sufficient demand.
How to Find Us
You'll find us at picnic site #23 on the map!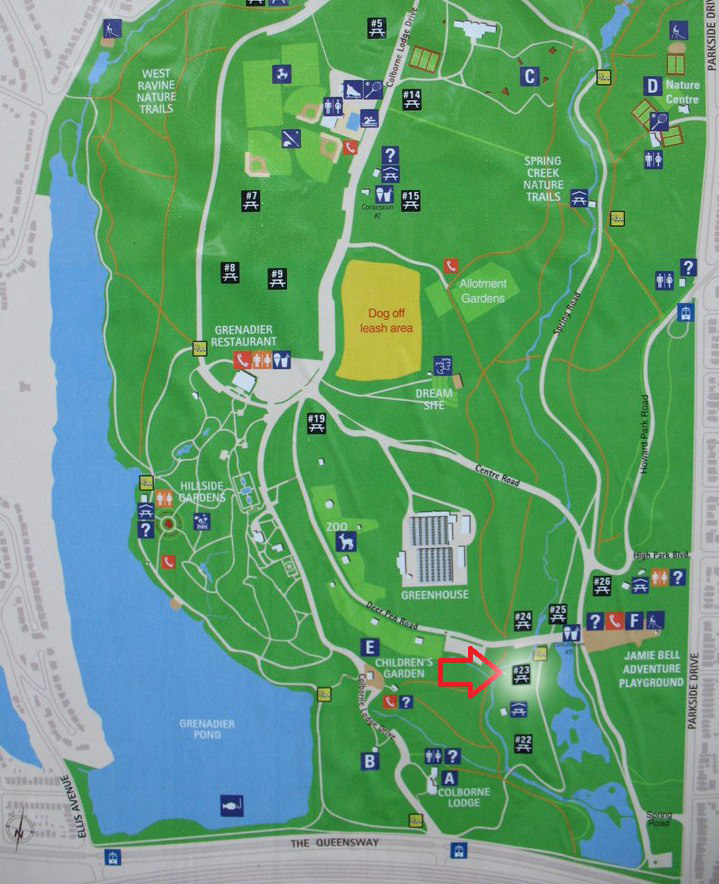 How to Get There...
By Subway: Get off at High Park station on the Bloor-Danforth subway line between Keele and Runnymede stations. The park's north entrance is a two minute walk from the station.

By Streetcar: Take the 508 Lakeshore streetcar and get off at the Parkside or Colborne Lodge stops or take the 506 Carlton streetcar all the way to the High Park loop by Parkside Drive.

By Bus: Take the 80 Queensway bus route which runs between Keele subway station and Sherway Gardens. Get off at the Howard Park Avenue stop on Parkside Road.
By Car: Please note that the ActiveTO program is in effect, which means you will not be able to drive into High Park. If you are driving into Toronto we suggest parking at Kipling subway station (if you are coming from the west) or Kennedy subway station (if you are coming from the east) and take the subway to High Park. Parking is free at both of these locations on the weekend.
Stay Healthy! Stay Safe!
Help us return to Camp Feral in 2022, by limiting the spread of covid-19. If you are planning to attend the park day we request that you complete a pre screen before coming to High park, and follow the instructions on the results. You can find a pre screen questionnaire here: https://covid-19.ontario.ca/screening/customer/
Staff will be providing an online form during the park day to collect info for contact tracing.
Please practice social distancing with people outside of your family/social bubble.
If you begin to show symptoms of covid-19 during the park day we ask that you return home (by private transport if possible).
How to BYOF
Feral may be 403 - Forbidden, but we ask that all attendees abide by Feral's Code of Conduct while at High Park.
In addition, please keep in mind we'll be in a public space and want to be respectful of others we are sharing the park with, so please BYOF within reason. Here is a quick cheat sheet of what is allowed/prohibited: