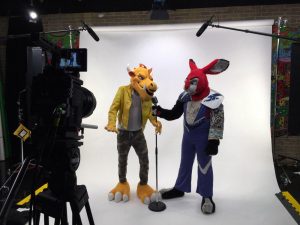 Culturally F'd produces short videos about anything and everything to do with anthropomorphic animals, since 2015. With special focuses on history, myth, literature, anthropology, mass media such as television and film, and the issues and current events surrounding the furry fandom. Culturally F'd tackles everything from Lewis Carroll, Walt Disney, Japanese myth, Teenage Mutant Ninja Turtles, indie games, the colective social and arts movement known as the Furry Fandom and how all of these things intertwine with one another.
The F'd stands for Furry, officially, but it can stand for any F-word that seems appropriate.
F'd has been nominated for 7 Ursa Major Awards in Best Nonfiction, Best Magazine and Best Website. The creators have appeared in the Vice documentary "Fursuits and Fursonas" as well as the podcasts South Afrifur and CreatorTown. Culturally F'd videos can be found on YouTube and Roku.
Mark "Arrkay" Clemens
Arrkay is from Hamilton, ON and moved to Toronto for university. It was in his first years in the city that he found a small clique of queer positive nerds who were later revealed to be furries. Arrkay's new friends brought him into the convention scene, local gatherings and social groups which inspired the YouTube channel. His very first furry con was Camp Feral 2010 "Feral the 13th", which was the push he needed to jump into the furry fandom. His current fursona is a Kingfisher bird, though he is often mistaken for a Rabbit.
A school assignment while attending college for Arts Management saw the creation of "Professor Feathers", a scholarly but sarcastic character who read aloud some terrible samples of found text. This gave Mark the skills and knowledge of the inner workings of YouTube to embark on larger projects such as Culturally F'd. Arrkay manages the back end, writes, video edits, and hosts the show.
Arrkay also produces "Quests and Queers", a dungeons and dragons 5e livestream with his partner Fletz. Arrkay plays in the game as Ygreth Bloodmaw a gnoll ranger seeking to liberate her people from a scourge of menacing werewolves.
Professionally, Arrkays day job is as the Assistant to the Artistic Director of Roseneath Theatre.
Mark "Underbite" Wakeham
Mark Wakeham was born on October 20, 1992 in St. John's, Newfoundland. While his parents had plans for him to play sports, Mark grew up showing interests in art and music. He began studying graphic design in 2012 and completed his diploma in two years. Mark continued studying Illustration and concept art after he moved to Toronto at the private animation college Max the Mutt. After a premature departure from his concept art studies, Mark has been making ends meet with part time work and freelancing furry commissions.
Mark had discovered the furry fandom in his teenage years, and participated in online art communities based on the subject. Shortly after making his move to Toronto, Mark began to break into its local furry community by attending several meets. It was at a furry event where both Marks met and immediately began discussing the YouTube channel. Since the show's conception Wakeham has created visual branding, motion graphics and other visual tasks relating to the channel. As the show progressed, he began to take on more roles, including speaking on episodes and attending events and classes on behalf of the show.
Aside from the YouTube show, Mark works on a freelance basis for clients from Newfoundland, Toronto and furries from across North America. Although currently on a break to pursue these other interests and opportunities, Mark will return to school within the next few years to acquire a degree. In the last year, he has played drums with Toronto rock band Xephyr and travelling band Foxes & Peppers on 2 albums and over a dozen shows. Mark sees himself working in the animation industry with graphic and character designs, and continuing to build entrepreneurship and his own brand and business.